Education
From the age of 3 I attended a private school in Spain, where Spanish and Catalan were equally spoken. I consider both to be my mother language. From the age of 8 I started attending an English academy as an extracurricular activity. There I was prepared to take the Cambridge English Official Exams. I spent 10 years there, and I'm happy to say that it was the knowledge and experience that I gained there what motivated me to go to university in England. I'm currently studying in London, and I know first hand how learning a new language can completely change your life.
About me
STUDENTS FOR SPANISH LESSONS (English or other): GCSE: Spanish A-Level: Spanish Exam board exp: DELE STUDENTS FOR ENGLISH LESSONS (Spanish): ESO: Inglés Bachillerato: Inglés Preparatoria exámenes oficiales: First (Cambridge) / B2 (EOI) STUDENTS FOR CATALAN LESSONS (English or other) Languages: Catalan (native), Spanish (native) and English (C2) Experience with: - Teaching Spanish-speakers to learn English - Teaching English-speakers to learn Spanish Preferred student age group: Any About me: I am a 20-year-old university student who is interested in sharing my knowledge in different languages with anyone who is interested in learning. I'm from a very small village near Barcelona, and growing up there gave me the ability to grow up bilingual. I consider myself to be very sociable, and my ultimate favourite thing is to travel and meet new people, I believe that it's the most enriching experience that anyone can have. I am fluent in Spanish, Catalan and English. I attended an extracurricular private English school from a very young age, what made me capable of acquiring an acceptable level of English before moving to England. I've spent the last three years teaching Spanish speakers English, and preparing them for the Cambridge exams. I definitely believe that my experience teaching English to Spanish children and my attendance to an English academy is an absolute game changer, as I know first hand what it takes to try to learn a new language - and let me tell you, it is possible!
How can GoStudent help?
It's simple
Step 1
Select a tutor
Many tried and tested teachers to choose from; pick the perfect one for you
Step 2
Select subject & date
We have tutors available covering all subjects. Whenever suits you and on hand to help.
Step 3
Chat before the session
You can discuss details with the tutor before your lesson in a private chat.
Step 4
Start videochat
It only takes one click to open our online platform, equipped with many features.
Advantages of GoStudent
Improve performance & grades
Through efficient, affordable private lessons on our innovative online platform.
Study with excellent tutors
Only the best & most motivated tutors are allowed to teach at GoStudent
Reduce worry & stress
Tackling every challenge effortlessly with reliable support
Save time & money immediately
Affordable & flexible learning assistance with just the click of a button, without the hassle of finding an appointment or travelling there.
Our online platform
An optimal learning experience using the latest technological innovation.
High quality video calls
Send messages and files
Available on all devices
Recording & Screen-sharing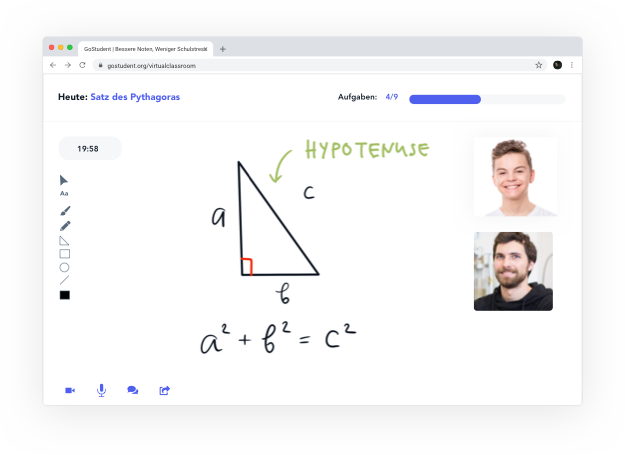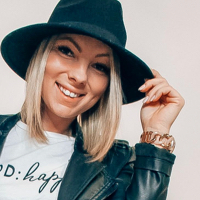 Interested in trying out GoStudent?
Arrange a trial session
Our tutoring takes place in our virtual classroom, where the respective needs of each student can be addressed individually. Flexibility and the use of digital tools are the main focus here! Our tutors find the right solution and learning support for each student.
With tutoring at GoStudent you will not experience teaching like in school. Your questions will be answered individually, and fun learning in a friendly, pleasant learning atmosphere are particularly important to our tutors. Experience a special kind of tutoring!
During the first meeting with our tutors, the individual needs of the students are addressed in more detail and a learning plan is created by analysing the learning difficulties. Learning achievements are celebrated step by step and our tutors remain motivated throughout the sessions!
Our students not only achieve better marks, but are also better motivated and have fun learning. They find a new self-confidence through individualised learning!