Education
Qualifications: GCSE in Spanish, Chemistry, Biology Maths, Physics, and English. A-level in Chemistry, Spanish and an AS in Applied Business, B-TEC Level 3 Extended Diploma in Applied Science ( a blend of chemistry, biology, and physics). Bachelor's degree in Chemistry and Natural Sciences.
About me
I'm George! I recently graduated with a Bachelor's degree in Natural Sciences, I love the Spanish culture and I have been fortunate to visit this country many times, I have been studying this great language since GCSE. I have lots of experience tutoring Spanish GCSE. I like to ensure that there is the right balance of doing exam-style exercises to practise whilst also immersing them into aspects of the culture through doing, speaking, writing and listening to passages about a variety of different parts of Spanish culture and not just what is on the specification to really instil a love for the language and culture. Science is all around us we live and breathe it every day and understanding chemical processes helps us to understand the world better, and that's why I love it. The classes I excelled in were always the ones I enjoyed the most and this was largely influenced by my teachers and professors. I had some fantastic teachers who taught chemistry in such an engaging and creative way and spoke with passion for their discipline. I hope to bring the same enthusiasm and knowledge to my tutoring sessions. I would like to teach the students in a way that they learn best and use a mixture of lesson plans and student influence to then go on and explicitly teach the material. I will ensure the students have time to practice the material on their own. But this can all be altered depending on the student's needs. I have experience tutoring GCSE Spanish, Chemistry, Physics and Biology students, working one on one, face-to-face, and online. Experience with AQA, OCR, and Edexcel. I have tutored students during exam periods and throughout the school year. Some students may need a bit of extra help so they don't get behind in class, and some may be aiming for a specific grade. Either way, I can adapt the session to the student's needs. I am a big football fan and support my local club Reading FC, I enjoy playing video games, travelling camping, and hiking. I also have a goldfish fish called flounder who lives in my pond. I currently work at the Chartered Institute of Marketing.
How can GoStudent help?
It's simple
Step 1
Select a tutor
Many tried and tested teachers to choose from; pick the perfect one for you
Step 2
Select subject & date
We have tutors available covering all subjects. Whenever suits you and on hand to help.
Step 3
Chat before the session
You can discuss details with the tutor before your lesson in a private chat.
Step 4
Start videochat
It only takes one click to open our online platform, equipped with many features.
Advantages of GoStudent
Improve performance & grades
Through efficient, affordable private lessons on our innovative online platform.
Study with excellent tutors
Only the best & most motivated tutors are allowed to teach at GoStudent
Reduce worry & stress
Tackling every challenge effortlessly with reliable support
Save time & money immediately
Affordable & flexible learning assistance with just the click of a button, without the hassle of finding an appointment or travelling there.
Our online platform
An optimal learning experience using the latest technological innovation.
High quality video calls
Send messages and files
Available on all devices
Recording & Screen-sharing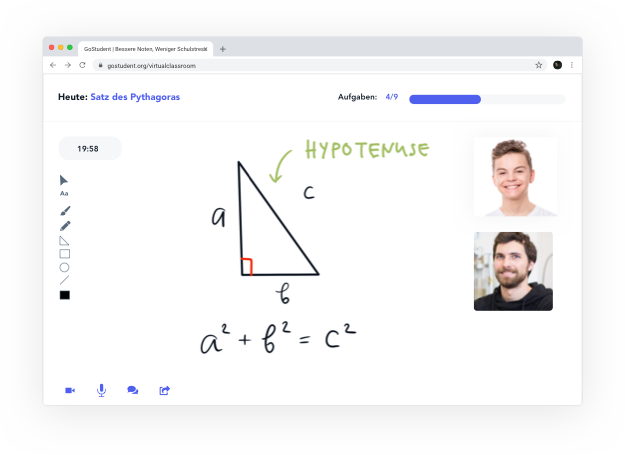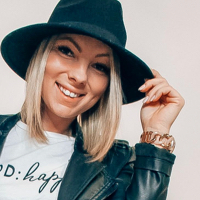 Interested in trying out GoStudent?
Arrange a trial session
Our tutoring takes place in our virtual classroom, where the respective needs of each student can be addressed individually. Flexibility and the use of digital tools are the main focus here! Our tutors find the right solution and learning support for each student.
With tutoring at GoStudent you will not experience teaching like in school. Your questions will be answered individually, and fun learning in a friendly, pleasant learning atmosphere are particularly important to our tutors. Experience a special kind of tutoring!
During the first meeting with our tutors, the individual needs of the students are addressed in more detail and a learning plan is created by analysing the learning difficulties. Learning achievements are celebrated step by step and our tutors remain motivated throughout the sessions!
Our students not only achieve better marks, but are also better motivated and have fun learning. They find a new self-confidence through individualised learning!