Education
I am a Barrister by profession, and have over 9 years of teaching experience. I ensure that my tutoring is tailored to the specific needs to the child. I have extensive experience teaching students with their spoken and written English. If you are looking for assistance with your IELTS exam, I can assist you with getting your desired grades.
About me
Lower level: English, Science GCSE: English, Law, World History A Level: Law, World History Higher Level: Law, History Exam Board Experience: SAT's, AQA, Edexcel, Undergrad Assignments, IELTS Preferred student age group: Primary/GCSE/A-Level/Undergraduate I am a dedicated teacher who prides herself on her abilities to demystify complex topics into simple words to ensure that any student of any ability can fully understand the lesson I'm delivering! My specialty lies in English Language, Law and History for younger children and GCSE and A Level students.
How can GoStudent help?
It's simple
Step 1
Select a tutor
Many tried and tested teachers to choose from; pick the perfect one for you
Step 2
Select subject & date
We have tutors available covering all subjects. Whenever suits you and on hand to help.
Step 3
Chat before the session
You can discuss details with the tutor before your lesson in a private chat.
Step 4
Start videochat
It only takes one click to open our online platform, equipped with many features.
Advantages of GoStudent
Improve performance & grades
Through efficient, affordable private lessons on our innovative online platform.
Study with excellent tutors
Only the best & most motivated tutors are allowed to teach at GoStudent
Reduce worry & stress
Tackling every challenge effortlessly with reliable support
Save time & money immediately
Affordable & flexible learning assistance with just the click of a button, without the hassle of finding an appointment or travelling there.
Our online platform
An optimal learning experience using the latest technological innovation.
High quality video calls
Send messages and files
Available on all devices
Recording & Screen-sharing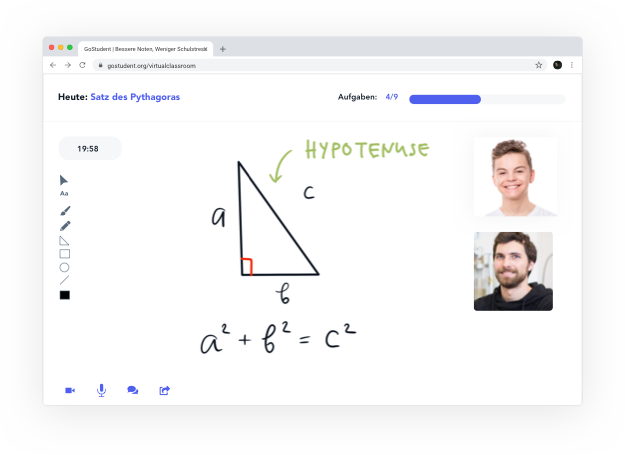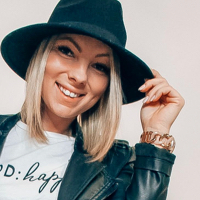 Interested in trying out GoStudent?
Arrange a trial session
Our tutoring takes place in our virtual classroom, where the respective needs of each student can be addressed individually. Flexibility and the use of digital tools are the main focus here! Our tutors find the right solution and learning support for each student.
With tutoring at GoStudent you will not experience teaching like in school. Your questions will be answered individually, and fun learning in a friendly, pleasant learning atmosphere are particularly important to our tutors. Experience a special kind of tutoring!
During the first meeting with our tutors, the individual needs of the students are addressed in more detail and a learning plan is created by analysing the learning difficulties. Learning achievements are celebrated step by step and our tutors remain motivated throughout the sessions!
Our students not only achieve better marks, but are also better motivated and have fun learning. They find a new self-confidence through individualised learning!