Helena Davies
Education
With regards to my degree, I received a first-class classification as well as a distinction in spoken French. Prior to university, I gained As and A*s at A-level and GCSE levels, studying and sitting exams for OCR, AQA and Cambridge syllabuses. I also have received child-safeguarding training during my time teaching on my year abroad in France. I am also fully DBS-checked (certificate issued in 2022).
About me
Hello! My name is Helena and I am a recent graduate from the University of St Andrews where I studied French, German and Art History. I have been tutoring and teaching for three years in the UK and the France. Despite being relatively new to the site, I have been tutoring both French and German in person and online on other platforms. For these tutorials, I have received a full student satisfaction, recently helping a student improve from a 4 to an 8 in their GCSE French exam. Such sessions have made me very familiar with and confident to teach current GCSE and A-level syllabuses - both of which I studied myself. Additionally, I was a language assistant in France through the British Council from 2019-2020 where I taught English to classes of French collège students. This experience has given me a thorough understanding of the mechanisms of language learning and of how to create a friendly and productive learning environment. I aim to create tailored and organised lessons, which are fun and engaging, while always being centred around learning objectives. I'm keen to listen to and incorporate feedback from students and parents, and am more than happy to work to varying schedules and commitments. In my free time, I am a keen baker. If I'm not tutoring or studying, I'll be in the kitchen trying (not always successfully) to recreate some of my favourite French pâtisseries! I also love visiting museums and galleries all around the world, and I make sure to integrate these two great passions into my lessons, because who doesn't like cake and pictures?! Looking forward to hearing from you and getting started! :)
How can GoStudent help?
It's simple
Step 1
Select a tutor
Many tried and tested teachers to choose from; pick the perfect one for you
Step 2
Select subject & date
We have tutors available covering all subjects. Whenever suits you and on hand to help.
Step 3
Chat before the session
You can discuss details with the tutor before your lesson in a private chat.
Step 4
Start videochat
It only takes one click to open our online platform, equipped with many features.
Advantages of GoStudent
Improve performance & grades
Through efficient, affordable private lessons on our innovative online platform.
Study with excellent tutors
Only the best & most motivated tutors are allowed to teach at GoStudent
Reduce worry & stress
Tackling every challenge effortlessly with reliable support
Save time & money immediately
Affordable & flexible learning assistance with just the click of a button, without the hassle of finding an appointment or travelling there.
Our online platform
An optimal learning experience using the latest technological innovation.
High quality video calls
Send messages and files
Available on all devices
Recording & Screen-sharing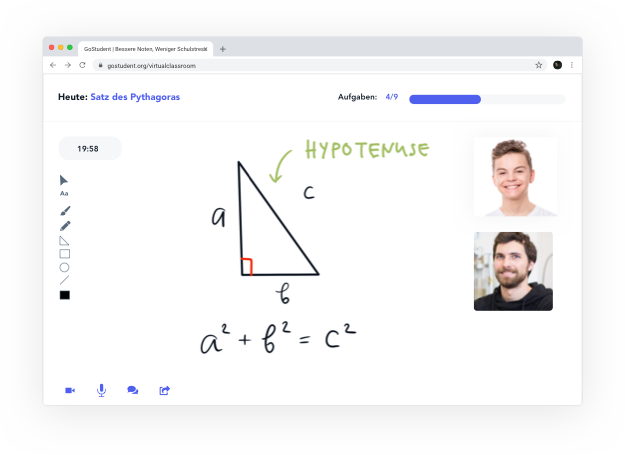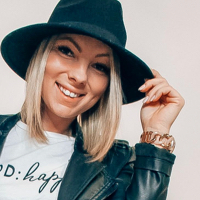 Interested in trying out GoStudent?
Arrange a trial session
Our tutoring takes place in our virtual classroom, where the respective needs of each student can be addressed individually. Flexibility and the use of digital tools are the main focus here! Our tutors find the right solution and learning support for each student.
With tutoring at GoStudent you will not experience teaching like in school. Your questions will be answered individually, and fun learning in a friendly, pleasant learning atmosphere are particularly important to our tutors. Experience a special kind of tutoring!
During the first meeting with our tutors, the individual needs of the students are addressed in more detail and a learning plan is created by analysing the learning difficulties. Learning achievements are celebrated step by step and our tutors remain motivated throughout the sessions!
Our students not only achieve better marks, but are also better motivated and have fun learning. They find a new self-confidence through individualised learning!