Getting started is as easy as 1-2-3
How to start your free month of 1:1 tutoring
Fill in the form above
Sign up and one of our Educational Advisers will get in touch with you to schedule your first free trial lesson.
Try online tutoring for free
Complete your first lesson in your chosen subject and see how easy it is to book and reschedule with maximum flexibility.
Get 3 more free lessons
Enjoy three more free lessons with your tutor on our easy-to-use platform and start experiencing a love for learning!
125 M
lessons per month
23,000+
Tutors Worldwide
30+
Subjects
20+
Countries
What makes us different
More than just another online tutoring service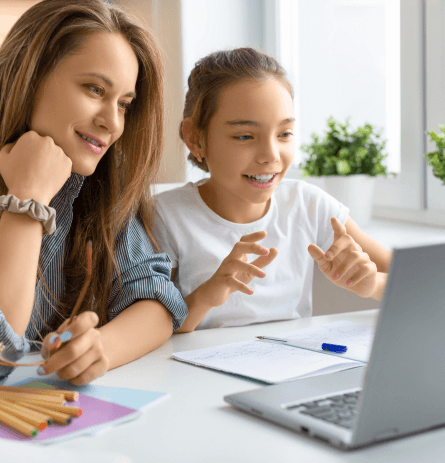 Professional online tutoring
Meet a global community of experienced tutors for more than 30 subjects.
Innovative virtual lesson space
Experience collaborative learning through an interactive virtual platform.
Learn as you go, wherever needed
Join lessons on a device at hand - desktop, tablet and mobile: all it takes is a good connection!
Flexible booking and rescheduling
Learn on your terms, anytime - easily schedule or reschedule lessons to fit your lifestyle. Safe and secure online payments
Safe and secure online payments
Keep your data safe, guaranteed by the latest security and technology solutions.
referral_lp_testimonials.title
referral_lp_testimonials.subtitle
Frequently asked questions
A trial lesson is a free lesson that gives you the chance to get to know the tutor and discover how GoStudent works without any commitment. After the free trial, you can decide whether you want to sign up for a membership.
Yes, credits can be used to book more than one tutor for different subjects. For example, your monthly credit allowance allows you to book maths and English tutoring with different tutors.
Parents can be present during the lesson if they'd like to be. However, supervision isn't necessary. GoStudent will provide regular updates about your child's learning progress and maintain consistent communication, even if you're not present during the lessons.
Yes, you have one month to complete your free trial lessons.
Once you enrol with GoStudent, you'll have access to all the features of our online platform to book lessons, track progress and more. In addition, you'll receive monthly credits based on your membership to book your tutoring lessons.
Be sure to pick up one or more subjects you are really interested in. For the best learning experience, you'll need a stable internet connection and a laptop, tablet or computer with an integrated or external microphone and webcam. We recommend using Google Chrome as your browser.
Want to become a tutor?
Learn how we select tutors, what qualifications are required, and up to how much you can earn.
×
Book a free trial session
Follow your friend's recommendation and try GoStudent yourself. I'm sure we'll find the perfect tutor for you too!
No spam. We keep your data secure.