Tailor-made tutoring for every child
Professional tutoring
We find the perfect tutor for any school subject and any school class. Better grades and zero school stress with GoStudent!
No spam. We keep your data secure.
Achieve learning success with professional tutoring!
Tutoring in all cities
With GoStudent you will find the right tutoring in every city in the UK and Ireland.
Tutoring in all subjects
We have qualified and certified tutors for all subjects, school types and school levels!
Private tutoring at GoStudent - this is how it works!
Calm and focused learning atmosphere
The tutor is able to concentrate 100% on the student during the lessons.
Tailor-made learning plan and resources
Customised exercises and goal-oriented tutoring for lasting learning success.
Greater flexibility in
tutoring
Private lessons can be booked and rebooked by students at any time. The tutoring will adapt to all the student's personal circumstances.
Achieve learning success with tutoring
Our tutoring not only helps your child to get better grades; it also increases their general learning and receptiveness.
What makes our tutors unique
The right chemistry between tutor and student is crucial for learning success. A good tutor understands the strengths and weaknesses of their students and takes these into account in their teaching methods.
To make sure that each student gets the right tutor, we analyse different criteria such as age, gender, preferences, knowledge level and personality.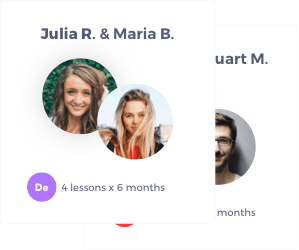 Private tutoring at GoStudent - More than 5,000 families trust us!
At GoStudent, we believe that tutoring should be tailored to each individual student. For this reason, we focus on teaching in an individual learning environment.
We have the possibility to respond to the individual needs of each student and support students in their learning success. Tutors are able to give their full attention to the student during the tutoring lesson
The tutor takes time for the student's questions and is ideally placed to contribute to the achievement of their learning goals. Distractions are avoided, enabling tutoring to take place without long diversions.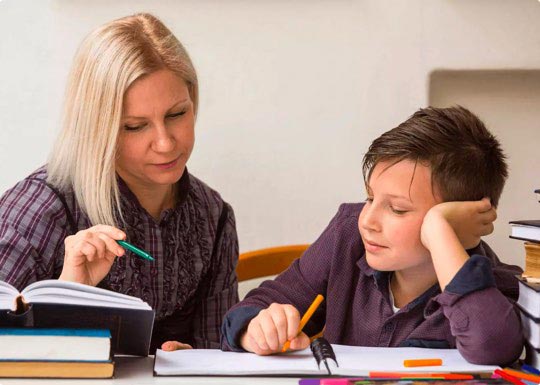 What are the benefits of private tutoring?
Learning materials and an individualised learning plan
Individual tutoring promotes the receptiveness and concentration of each student, enabling them to achieve rapid learning success. Our tutors provide learning materials for each student. For this purpose exercises, mock exams and customised exercise sheets are used!
Our learning materials provide the right support and serve as a good alternative to classic books that students use in the classroom. Our tailor-made learning plan provides the right structure for the learning process.
Realistic goals are set so that students can improve their overall grades in the shortest possible time
Flexible tutoring
Tutoring is characterised by the fact that lessons are interactive, opening up a whole new way of learning. At GoStudent, we adapt to the respective level and find the right solution for each student.
Flexible time management gives students the sense that they are taking their learning routine into their own hands. In the long run, this leads to greater motivation to learn and ultimately success.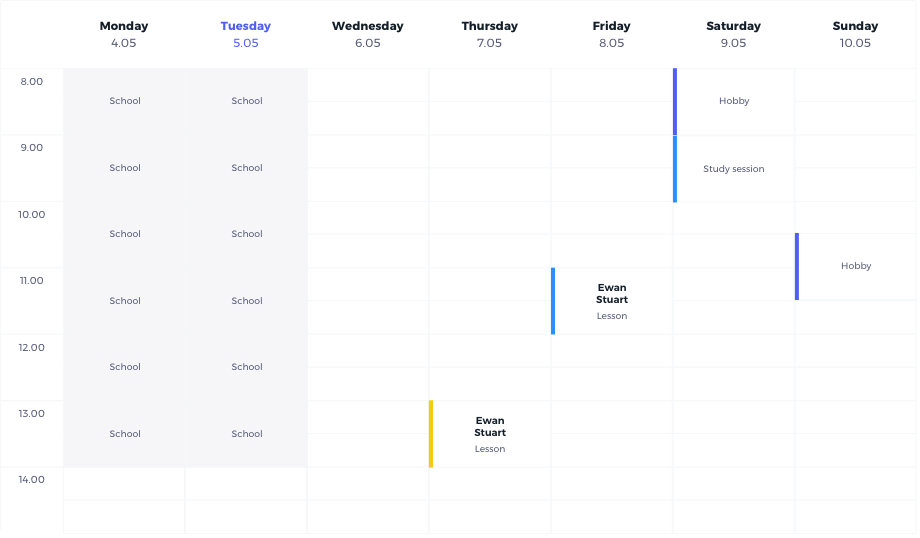 Achieve learning success with tutoring
Our tutoring not only helps your child to get better grades; it also increases their general learning and receptiveness. We can select the best tutor for your child from more than 1,000 tutors based on a wide range of criteria.
This way, your child is encouraged and challenged to the perfect extent. With tailor-made tasks, exercises and tests, our tutors are able to complement school material and thus help your child to constantly improve their performance, ultimately leading to better grades. We do not simply put the book in front of our students' faces. We complement their school and create realistic learning goals and strategies.
With individual learning and worksheets, homework and tests, we address your child's weaknesses and achieve sustainable results.
Better grades with professional tutoring
What applies to sport also applies to tutoring: practice makes perfect. Our tutors will focus on your child and will support them in achieving their goals.
We pay particular attention to ensuring that the lessons are always comprehensible and that we both go over old material and constantly seek to cover new ground. Grades can only be improved over the long run with a tailor-made learning plan and a perfectly coordinated tutor.
The first session is free of charge!
Try GoStudent risk-free without any obligations with a free trial lesson from the comfort of your own home. We offer a free lesson to get to know you in advance and to find the right tutor for you. Our professional tutors are really looking forward to meeting you!
GoStudent has helped many students reach their full potential in school. Your child can be next!
Super tutoring!!!
The tutoring is really highly recommended! Our daughter benefits from tutoring for GCSE maths with Xenia. She explains the material very clearly and in an easy-to-understand way using examples.
Our tutor is Julian Johnson
Our tutor is Julian Johnson, I can only recommend him. My son has never liked physics so much. Absolutely fantastic!
From C to A
I am very pleased with my daughter's development in chemistry. She has improved by 2 grades within a short time. Registration, support and the tutors are great.
We are very happy
We are very happy. Everything works. Started with organising a session and ended with increased motivation. My daughter doesn't really enjoy maths, but the maths tutoring is fun and she really likes it.
Our daughter thinks it's great, so do we
Hello, our 11 year old daughter in Year 7 is taking private french lessons. Tutoring happens twice a week, and can also be done on weekends. We had tried classic tutoring before where the students go and learn in small groups. My daughter never liked that, neither did we. By contrast, GoStudent is very practical and uncomplicated.
Only the very best experience so far
We've only had the very best experience so far. Amazing support for parents and students alike. Absolute transparency. The lessons are obviously fun, because our child says they've found the perfect tutor. Up until this point, maths was rather tormenting...not anymore!
Thank you very much
Thank you very much. My daughter has never been so enthusiastic and happy about biology.
Everyone is incredibly kind and helpful
Everyone is incredibly kind and helpful! You can ask anything and always receive an immediate response. My daughter hates maths, but she loves tutoring.
Thanks to GoStudent, my girls have gotten started...
Thanks to GoStudent, my girls have gotten started with maths again. Big thanks to Minna!
Find out more
Secure a place for your child now!
We handle over 40,000 teaching units per month and have more than 1,000 certified tutors across all school subjects. Your child's maths education is in good hands with us!
No spam. We keep your data secure.