Be at the forefront of innovation in the education sector!
Get involved
Give meaning to your work
At GoStudent, our mission is to inspire students and help them reach their full potential. We believe that personalisation is the key to providing the best possible experience for our clients and employees. We listen to their wishes and help them discover unspoken needs.
Be inspired by our founders
In 2016, GoStudent founders Felix and Gregor decided to change the way students learn forever. They observed that the environment in which people learn remained the same, even though technology has dramatically changed the way people communicate over the past 10 years. This had to change.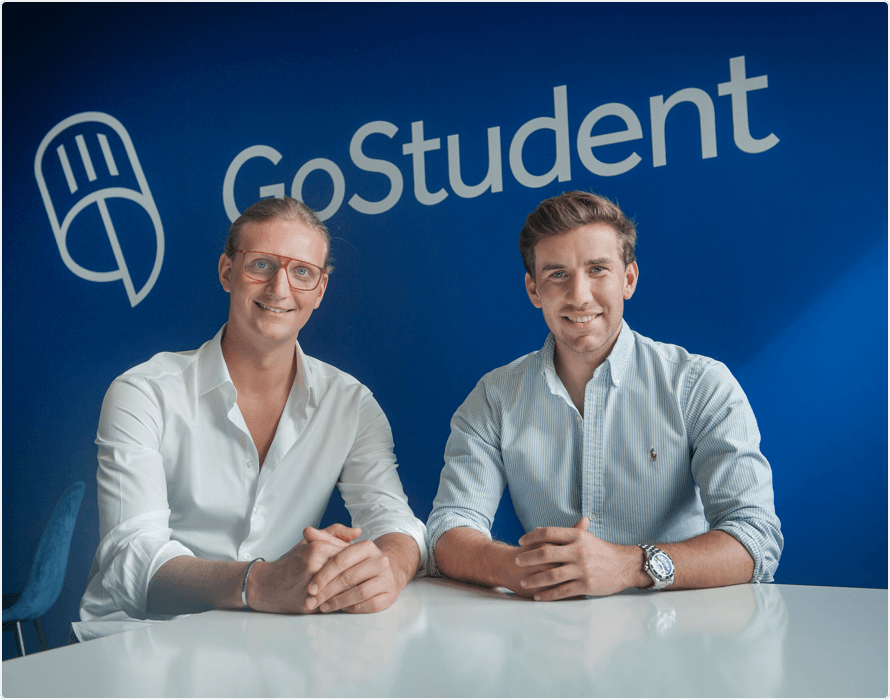 Your work and opinions count
GoStudent members follow a fundamental value system in order to trigger a paradigm shift in the educational sector with their actions and decisions and to convince customers that there is a better alternative to traditional learning. To achieve this, we reward responsibility, encourage new ideas and bring people together towards this common goal.
Our office
Our office is ideally located just 5 minutes on foot from the Praterstern. We enjoy a great view over all Vienna from our terrace on the 6th floor. The office is modern, very bright and greatly contributes to a pleasant working atmosphere. Above all, the new office offers a lot of space for our existing and potential new employees.
Our values
We expect our employees to be bold, question the status quo and move quickly. Our flat hierarchy enables effective communication and fast decision-making. Do you have an idea of how to improve our product or reach new customers? Just let us know and we will do everything we can to make your vision a reality!
Our spirit
You like long nights and prefer to start work at 10:00am? You like to have lunch with your colleagues? You like to work from home a few days a week? Do you like blowing out candles on your birthday cake? Do you like learning new languages? Do you like to celebrate big successes with a few beers? If so, then you have found the right place!
Get to know our team
The goal of our marketing team is to attract potential customer (parents, pupils and students) and convince them to try the GoStudent platform. Whether you are more analytical or creative, we will assign tasks that are perfectly suited to your strengths. Would you like to shoot promotional videos for our product? Implement and optimise Facebook and Google Ads campaigns? Create cool content for our website and newsletter? The possibilities in marketing are endless!
Sometimes it seems more difficult to bring innovation to the market than to create it. Our team members are motivational artists, work in a very goal-oriented manner and enjoy contact with our customers. They build and maintain relationships. They recognise the needs of clients and find the ideal tutors for them or their children. By the way, we do not make cold calls! All leads are warm like buns fresh from the baker, conjured up by our marketing team just for you.
Ghandi
Sanja
Stephan
Bernie
Daniel
Abdullah
Arnela
Cornelia
Maximilian
Moritz
Patrik
Sebastian
Yannick
Philippe
Aysun
Christoph
Lara
Christopher
Leonie
Nicole
Ognjen
Sladjana
Stefan
Michael
Selling a great product is not enough for a company to have a positive impact on the lives of its customers. You have to help them get the most out of it so that they actually achieve their goals. A close and lasting relationship is essential. We bring them on board, help them find new routines, listen to their concerns and help them solve their problems quickly. If this relationship with customers is important to you, then this role is right up your street!
Federico
Stefanie
Vanessa
Our excellent tutors are the cornerstone of the product! The quality of the entire product is only as good as the tutors themselves. Our community team employs the tutors, trains them and helps them with any problems they may have. If you know what it takes to be a great tutor and you want to put that knowledge into practice - give us a call!
Felix
Johanna
Dorothea
Jonas
Our colleagues work together on the classroom of the future in Berlin, Sofia and Vienna. Our IT team improves and perfects our technical systems, our product and our platform on a daily basis, ensuring that everything runs smoothly for us as a team and for our customers.

The Design & UX team solves problems and improves the user experience, working closely with the Product & IT team. In the Design & UX team, you should be able to conduct research, come up with great ideas, create low & high-fidelity prototypes, create perfect UIs and occasionally do some programming to make the lives of GoStudent users easier and more enjoyable.
Our Finance & HR team works in the background, ensuring that everything runs smoothly internally. Our HR department is responsible for making sure that our team is constantly growing and that our employees are satisfied, supported and able to develop. The Finance team takes care of internal reporting analysis of figures and data management. The Accounting department takes care of our figures and strives to optimise our financial processes.
Become part of the vision
To achieve our mission and stay one step ahead of our competitors, we are looking for determined and talented professionals. Are you ready to accept the challenge to help shape the future of education?
1
Overview
We check your experience and current interests to see if you fit in with us.
2
Call
We call you so we can get to know each other and discuss expectations.
3
Work assignment
We'll give you a work assignment to find out what you're made of.
4
On-site
We invite you to our office so we can get to know each other personally.
5
Offer
We will make you an offer that best suits your experience and your future tasks.
6
Onboarding
Your buddy introduces you to the team and your tasks in detail.
Did not find a position that suits you? Just send us your application and we will consider where you might fit into our team!