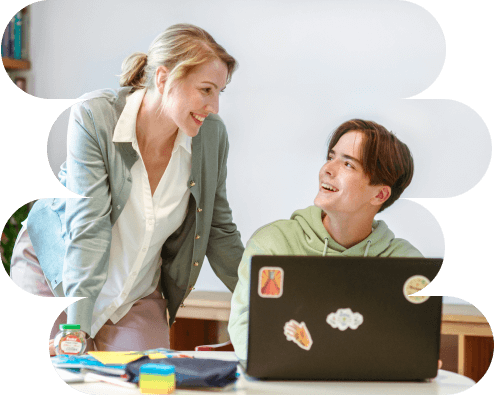 let's Build the World's #1 Online School
Partner With The Fastest Growing Ed-Tech In Europe.
We're in the business of unlocking every child's full potential. We work with thousands of families and students across the world to help improve school grades and bridge education gaps through accessible, innovative tutoring that's tailored, flexible and affordable.
"Our partnership with GoStudent has resulted in over $90k in impacted revenue in the last year alone"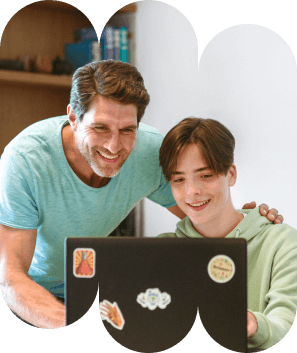 Our product features:
20+ school subjects including math and science
Weekly lessons booked and paid for on one platform
A free expert consultation to understand students' learning needs and recommend the best tutor for them
The first lesson is completely free
Boost Your Bottom Line:
We're excited to collaborate with businesses that are passionate about brand engagement and product expansion. Partner with us and we'll help you leverage the power of our innovative learning solutions for greater engagement and brand love.
With access to over 21 markets, we'll also help you grow your audience base and uncover new business opportunities together. Partnering with us gives you access to the following major benefits:
Partnering with us gives you access to the following major benefits:
More engaged customers:
By bringing the best-in-class customised learning solutions to your existing customers, you'll be sure to keep them happy, engaged and in love with your brand.
Global reach:
GoStudent is growing fast! We currently service 20+ markets worldwide, with more to come.
Revenue boost:
From co-marketing to co-selling or re-selling, there are various value-added business models we offer to our partners. We can work together to provide holistic solutions for our customers.
Unparalleled business opportunities:
We're always looking into new ways to enhance our product and user experience, which is a perfect opportunity for you to explore the power of integrated, strategic partnerships.
Increase your value:
Employees who receive family-friendly benefits demonstrate higher productivity, engagement and loyalty within the workplace.
Partner with us by offering GoStudent's expert tutoring services to your employees and give them, and their children, the gift of expert tutoring.
Partnering with us gives you access to the following major benefits:
Improved productivity:
When working parents enjoy peace of mind about their children's education, they have more time to focus on doing their best at work - giving you the competitive edge.
Higher engagement:
Caring about education is one of the foremost concerns for a working parent. You can support them by offering access to personalised and long-term learning opportunities for their children, and at a price that cannot be obtained elsewhere.
Dedicated partnership:
As your partner, we'll support your people's needs at every step. The programme is easy to set up as an employee benefit. GoStudent will manage everything and provide reporting on satisfaction and performance. We will measure the impact on employee wellbeing, engagement and productivity and share it with you.
Enrich Your Product Offering:
Our tailored learning solutions have a 95% success rate among students. Partner with us we'll help you deliver and develop learning experiences that are affordable and innovative.
Partnering with us gives you access to the following major benefits:
Brand loyalty:
Our vision is to enable every student to unlock their full potential, and it works! GoStudent has been used by thousands of students and parents worldwide, and they love the tailored approach we offer. We have over 90% 5-star reviews from the learners in over 20+ countries.
Ideal match with pre-vetted teachers:
We only work with pre-vetted and best-in-class tutors to enhance the learning capacity of each student. To ensure a successful learning experience, we use an AI-powered matching algorithm that learns preferences and special skills per student and tutor to find the ideal student-tutor fit.
Premium yet affordable service
We offer high quality private tutoring via our virtual classroom that is available on all devices with recording function, digital whiteboard, screen sharing, subject-specific tools and a learning environment that is safe, supportive and fun for learners.
Reporting on progress
In addition to the dedicated support in planning and launching the partnership, we will share ongoing data and reporting on your schools' GoStudent usage, so that you can track your students' learning progress to better engage with them.
Career advancement
In addition to complementing your students' learning needs, we can also bring our global expertise and connections to your school to foster their career journey through career events, international speakers, internship opportunities at GoStudent offices and more.
Make an impact:
We believe in making school as accessible as possible to as many students as possible. Partner with us and make a long-lasting impact on the future of our youth through the power of education, diversity and inclusion.
Partnering with us gives you access to the following major benefits:
Impact at scale to shape the future:
Our mission is to build the #1 global school, and you can become a part of this mission by fostering an engaging learning community for disadvantaged students globally. Closing the global skills and education gap through effective learning programmes is key for a brighter future.
Local engagement:
A child's economic background should not be a barrier to realising their potential. Our partnerships will be a great opportunity for you to work with schools or community groups in underprivileged areas to help build and rebuild communities by enabling kids and parents through education. In return, this investment will result in an educated workforce for your business in the future.
Diversity and inclusion
Corporates are increasingly investing in education programmes across the world to contribute to a more diverse and inclusive society. GoStudent tutoring helps with improving grades and increases a child's all-round ability to learn. Together we can provide scholarships and bring GoStudent's customised learning solutions to thousands of students, inclusive of all backgrounds.
Grow your following:
We're constantly looking for ways to engage with parents, students and tutors across the globe. Help us spread the word about GoStudent and we'll provide you with competitive remuneration, unique benefits and all the marketing support you need to grow your audience base like never before.
Partnering with us gives you access to the following major benefits:
Marketing support:
We'll do the heavy lifting for you so that you can communicate with your community more effectively. You can access GoStudent's partner library for engaging stories, marketing materials, visuals and exclusive partner events.
Revenue growth:
Our goal is to help you grow your business while bringing the best tutoring solution to your network. You will be rewarded with competitive benefits and remuneration for every opportunity you refer to GoStudent, at the same as contributing to your followers' learning journey.
Unique and trendy
Partnering with us gives you a great opportunity to stay ahead of the game and offers value to everyone. By partnering with GoStudent, you will help your community reach their full potential, boost their confidence and performance levels on their education journey.
Interested in partnering?
Please fill out the form and we'll get in touch