Education
I attended Northwestern University, currently among the top 10 universities in the United States. There I majored in psychology, but I was pre-med with the goal of becoming a doctor, so my main area of study was in science. This came to the ultimate goal of taking the MCAT, which requires mastery of chemistry, organic chemistry, biology, physics, psychology, and sociology. I was taught the subjects from scratch, eventually practicing them to the point where I was able to teach them on my own. Although my main focus at university was in science, I also spent a significant amount of time studying French and violin. I taught my own violin lessons all throughout college, and I both received and gave French lessons. Now that I am finished with my undergraduate studies and the MCAT, I would love to pass on what I have learned. Whether you will take the MCAT yourself one day or just want to have a better command of the sciences, I'm sure I can help
About me
I grew up in Louisville, Kentucky, attending a performing arts high school where I played violin every day and fell in love with classical music. While I was thinking about becoming a professional musician, I had an interest in medicine from a young age and it came time to act on it when I applied to university. At the final stretch of high school, I had to choose to pursue music at Juilliard or pursue the pre-med track at Northwestern. I chose Northwestern, and became a science student, a choice I am to this day very happy with. I got to conduct research, publish science, shadow physicians, and dive further into the medical world. At Northwestern, I majored in psychology. I studied it both in and out of school, especially positive and depth psychology, and spend a lot of my free time reading about advances in the field (along with self-help books where you find a lot of positive psychology). Now that I have graduated from college, I'm filling up my free time by reading classic literature (in both English and French) such as Dostoevsky, Tolkien and Hugo. I volunteer for Hospice, grow avocado plants at home, and am currently being forced to watch the Twilight movies with my girlfriend. I still tutor violin as well as chemistry and organic chemistry, two sciences I always found much more satisfying than frustrating. I find a lot of purpose in helping my students, taking subjects that were confusing and painful and making them easy and even enjoyable.
How can GoStudent help?
It's simple
Step 1
Select a tutor
Many tried and tested teachers to choose from; pick the perfect one for you
Step 2
Select subject & date
We have tutors available covering all subjects. Whenever suits you and on hand to help.
Step 3
Chat before the session
You can discuss details with the tutor before your lesson in a private chat.
Step 4
Start videochat
It only takes one click to open our online platform, equipped with many features.
Advantages of GoStudent
Improve performance & grades
Through efficient, affordable private lessons on our innovative online platform.
Study with excellent tutors
Only the best & most motivated tutors are allowed to teach at GoStudent
Reduce worry & stress
Tackling every challenge effortlessly with reliable support
Save time & money immediately
Affordable & flexible learning assistance with just the click of a button, without the hassle of finding an appointment or travelling there.
Our online platform
An optimal learning experience using the latest technological innovation.
High quality video calls
Send messages and files
Available on all devices
Recording & Screen-sharing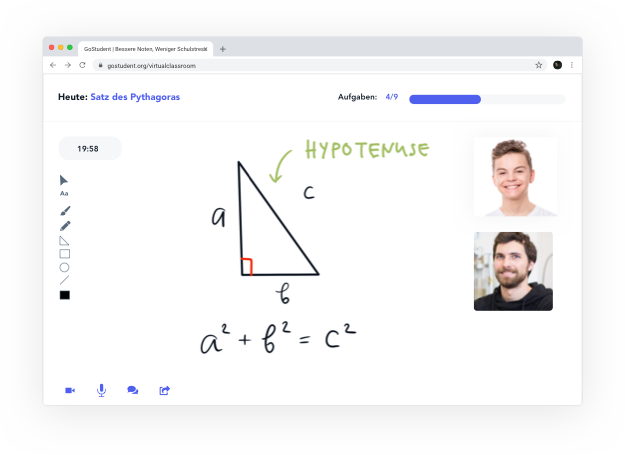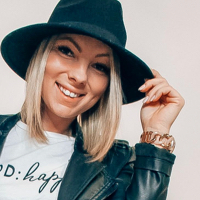 Interested in trying out GoStudent?
Our tutoring takes place in our virtual classroom, where the respective needs of each student can be addressed individually. Flexibility and the use of digital tools are the main focus here! Our tutors find the right solution and learning support for each student.
With tutoring at GoStudent you will not experience teaching like in school. Your questions will be answered individually, and fun learning in a friendly, pleasant learning atmosphere are particularly important to our tutors. Experience a special kind of tutoring!
During the first meeting with our tutors, the individual needs of the students are addressed in more detail and a learning plan is created by analyzing the learning difficulties. Learning achievements are celebrated step by step and our tutors remain motivated throughout the sessions!
Our students not only achieve better marks, but are also better motivated and have fun learning. They find a new self-confidence through individualised learning!